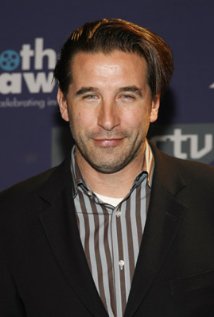 William Baldwin (Born William Joseph Baldwin) is an American actor, producer, and writer. He replaced Dwight Yoakam in the role Bruce in the fourth and final season of Wilfred (US Series).
Biography
Edit
William Baldwin was born on February 21, 1963 in Massapequa New York to Carol Necome and Alexander Rae Baldwin Jr. He is the brother of actors Alec, Daniel, and Stephen Baldwin as well as Beth and Jane Baldwin.
Baldwin was raised Catholic and attending Binghamton University where he participated in wrestling before achieving a degree in political science.
Baldwin's acting career began after he became a model for Calvin Klein. His first role was as Robert Chambers in The Preppie Murder in 1989. Most recently, he has stared in Gossip Girl and Hawaii Five-O. He even guest starred on 30 Rock as Jack Donaghy (the role his brother Alec plays) in a movie within the tv show. He currently models for Sacoor Brothers.
Ad blocker interference detected!
Wikia is a free-to-use site that makes money from advertising. We have a modified experience for viewers using ad blockers

Wikia is not accessible if you've made further modifications. Remove the custom ad blocker rule(s) and the page will load as expected.