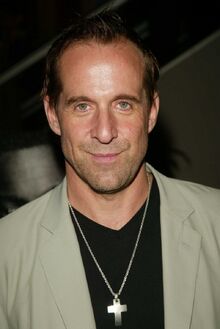 Peter Stormare (Born Rolf Peter Ingvar Storm) is a Swedish actor, director, playwright, and musician. He plays Trashface in Wilfred (US Series).
Biography
Edit
Peter Stormare was born August 27, 1953 in Sweden changing his surname after he discovered he shared it with another student at an acting academy.
Stormare's career begins when he participated in the Swedish Royal Dramatic Theatre for eleven years. Participating in several Shakespeare performances gained him fame and he was later discovered by international audiences after he starred in Fargo in 1996.
Stormare voices characters in games including Mercenaries: Playground of Destruction and Icewind Dale 2. He has most recently been seen in trailers for Call of Duty: Black Ops II.
Stormare has been married twice, once to actress Karen Sillas and now to a Japanese woman named Toshimi.
Stormare released a music album in 2002 and plays in a band called Blonde from Fargo.
Ad blocker interference detected!
Wikia is a free-to-use site that makes money from advertising. We have a modified experience for viewers using ad blockers

Wikia is not accessible if you've made further modifications. Remove the custom ad blocker rule(s) and the page will load as expected.